THC series Hydraulic Rapid Impact Compactor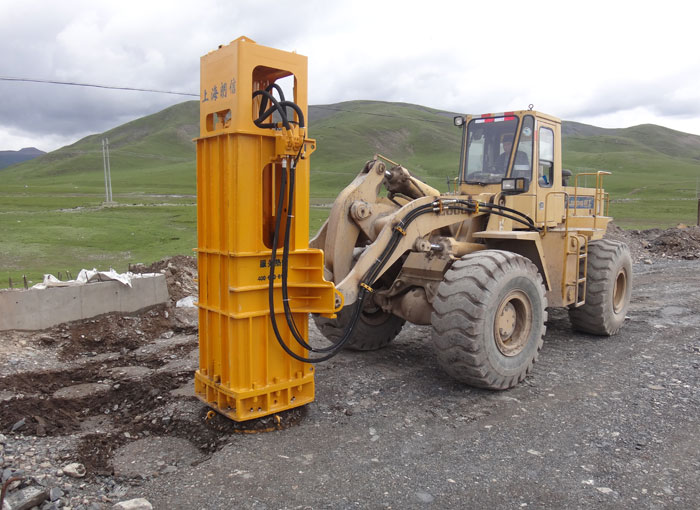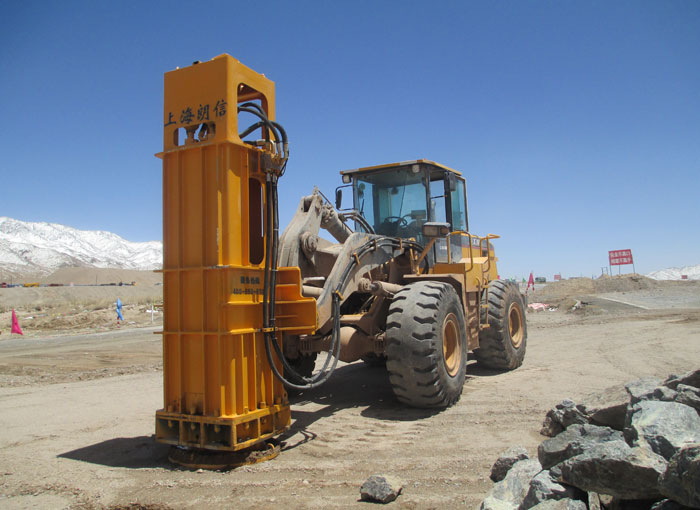 Shanghai Trust THC series Hydraulic Rapid Impact Compactor

THC series hydraulic rapid impact compactor is designed according the condition of compaction padding and soft ground. It can easily be installed to the loader and excavator. And it has the character of maneuverability, controllability and high efficiency. It's an unique compaction equipment working in a fast speed.What's more, in the both sides of bridges'compaction, use vibratory roller to make compaction for every stratum,but it's hard to reach the technical requirements. But Hydraulic Rapid Impact Compactor can realize it easily. It's monitored in the process of compaction.

Application:
1.Apply to traditional dynamic compaction or help to dynamic compaction
2. Apply to highway subgrade or railroad beds
① Tamp or reinforce highway subgrades and railroad beds to avoid future naturalsedimentations;
② Solve the domestic widespread puzzle of bumping at both sides of bridges;
③ Crush old road surface and make use of it locally;
④ Upgrade and rebuild of roads and broaden old roads;
⑤ Tamp high-filing subgrades, especially for the subgrades soils and stones filling;
⑥ Backfill and compact subway base stations;
⑦ Tamp subgrades of highway and railway like abutment back; culvert side; chicken claw ditch,etc.
3. Apply to building field of industrial and civilian
In the process of low rise buildings' foundation treatment, it can save cost of gravel piles andshorten days of construction. Also it deals with construction waste locally, so saves the cost ofremoving industrial refuse.

4. Apply to hosting sites like stockyard
It suits for wharf and container sites. Also, it is used in foundation treatment of large-scaleindustrial , corporate stock grounds, fuel tanks, airports and harbors, etc. What's more, it worksfor salt pond permeation in salt industry.

5. Apply to environmental engineering
Solve the problems of harmful materials buried. Increase the number and deepness of buriedobjects, so it can save land and avoid secondary pollution. Also, through this method it avoid thedanger of gas leak because of not buried well.

6. Apply to military
It is used to repair airport pavements and roads timely at wartime. And it can crush repeatedlyrunways that for training planes .Many countries in Southeast Asia have bought a lot for military.

7. Apply to reinforce and compaction for water conservancy projects
It is used in reservoirs, river and lake embankments, seawalls, flood-fighting and emergencyrescues

8.Post-quake reconstruction:
Post-quake dismantling and recycling; Post-quake damaged road reconstruction and reinforcement.

THC Hydraulic Rapid Impact Compactor Technical Parameters
Model
THC30
THC36
THC42
THC60
THC84
Hammer Block Weight kg
2500
3000
3500
5000
7000
Hammer Block Stroke(adjustable) mm
200~1200
Max Impact Energy kJ
30
36
42
60
84
Impact Frequency (adjustable) 1/min
30~80
Overall Weight kg
4200
4700
5200
6800
9000
Overall Height mm
3540
3540
3540
4100
4600
Overall Width mm
860
860
860
860
860
Overall Depth mm
920
920
920
920
920
Working Pressure MPa
14
16
18
19
24
Working Flow l/min
120~160
120~160
130~170
140~180
140~180
Hammer Foot Weight kg
450
450
450
450
450