Cutting Unit/Rockwheel Gearbox Series Series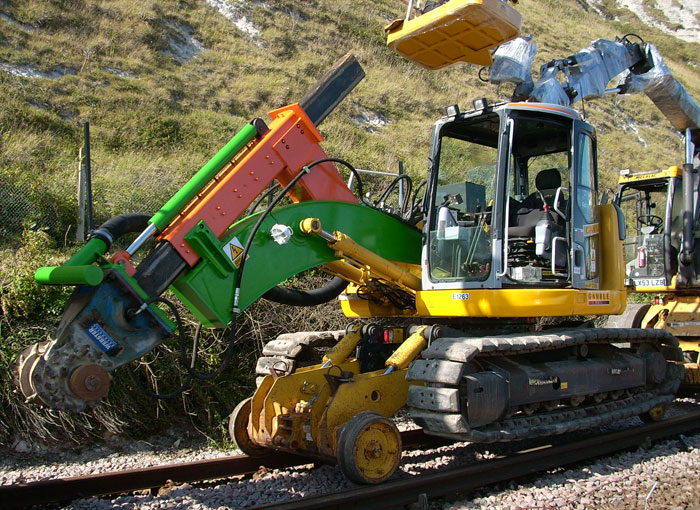 Rockwheel Hydraulic cutting units

PHILOSOPHY
Rockwheel is based on key quality features.
• Technical advances
• Made in Germany
• Sales and service through a professional network of dealers

GOAL AND VISION
We are working to establish Rockwheel cutting units worldwide. Hydraulic hammers and cutting units both have specific benefits.
Let's find the most effective solution for your application together.

WHY ROCKWHEEL?

1.MOST EXPERIENCE ON THE MARKET
Engineered by pioneer Ian Webster

2.MADE IN GERMANY
All components are produced in Germany

3.THE MOST HEAVY-DUTY DESIGN ON THE MARKET
Practically indestructible

4.UNIQUE UNRIVALLED PRODUCT RANGE
For each excavator size the right technology

A Rockwheel cutting unit offers a great number of possible uses – cut a trench faster and more precisely,reduce reinforced concrete bunkers to powder.

Perform contouring and profiling with ease in renovation work – and more quietly than with traditional methods.

We offer cutting units for machines with an operating weight of 1 to 125 tonnes.
The number that comes after the model C (Chain), D(Direct) and G (Gearbox) refers to the average operating weight of the excavator.



A ROCKWHEEL SHOWS WHAT IT CAN DO:
Demolition and concrete work
Cutting performance in the mining sector
Contouring / Profiling /Building renovation

FURTHER APPLICATIONS
• Cutting out tree stumps
• Soil preparation
• Underwater cutting
• Tunnelling
• Road construction

THE BENEFITS
There are many good reasons for using a Rockwheel cutting unit:
• Produce an extremely accurate profile in excavation and tunnelling work or in surface preparation.
• Reuse the finely grained excavated material for backfilling.
• Fewer vibrations reduce fatigue when working.
• Reduce the risk of damage in and around the site.
• Use the cutting units in noisesensitive zones, as they are relatively quiet to operate.
Model
 
C2
G5
G5 Twin
D10
D15
D20
D30
G45
G55
G125
Excavator size
t
0.7-2.5
2-6
5-10
7-15
12-18
15-25
26-38
45-55
45-65
65-125
Hydraulic Power
kW
9.5
22
44
29
41
70
110
140
220
400
Operating weight
kg
66
181
200
426
595
1170
1444
2458
2478
5420
Maximum pressure
bar
225
400
400
400
400
400
400
400
400
400
Working Pressure
bar
50-225
180-400
180-400
180-400
180-400
180-400
180-400
180-400
180-400
180-400
Max. oil flow
l/min
60
65
100
112.5
132
320
460
540
680
1000
Optimum oil flow
l/min
30
40
80
60
120
220
320
360
540
800
Reduction ratio
 
1:1
2:1
2:1
1:1
1:1
1:1
1:1
1.2:1
1.2:1
1.2:1
Drum speed
rpm
100-125
50-81
95-118
80-150
95-104
78-113
76-109
50-75
54-67
40:50
Pick speed
m/s
1.8
0.9
1,7
1.8
2.4
2.2
2.7
2.0
2.0
1,9
Cutter torque
kNm
0.6
4.2
4,3
4.2
6.9
15.6
23.3
37.7
47.0
111,7
Pick force
kN
4.2
22.0
24,9
19.7
29.2
48.4
68.9
103.9
129.5
241,4
Number of picks
No.
32
32
32
56
64
64
60
54
54
76
Size of pick holder
mm
14
19
19
19
19
25.4
38/30
38/30
38/30
38/30
Drum diameter A
mm
270
340
340
423
475
646
677
726
726
925
Drum width B
mm
300
405
405
743
832
1058
1156
1050
1050
1494
Drum spacing C
mm
60
82
82
103
118
143
143
250
250
339
Cutter length D
mm
509
618
618
798
937
1155
1170
1356
1350
1686
Dimensions of
adapter plate E x F
mm
256×160
318×220
318×220
560×410
650×495
700×650
700×650
800×650
800×650
1035×1065