Cutter Dredger CSD Cutter Dredger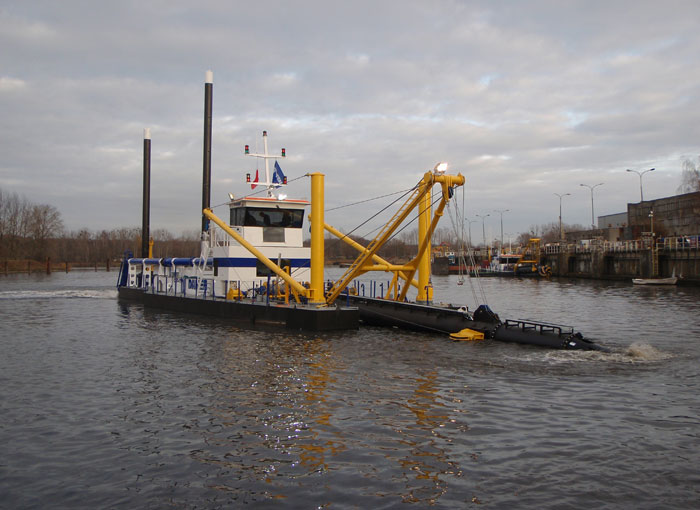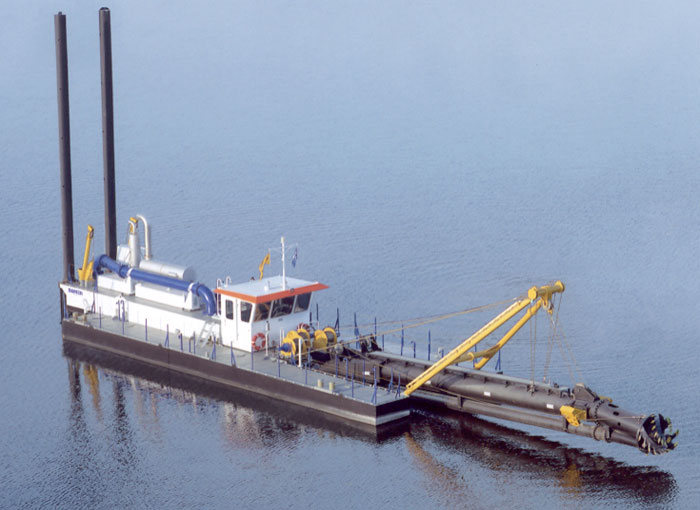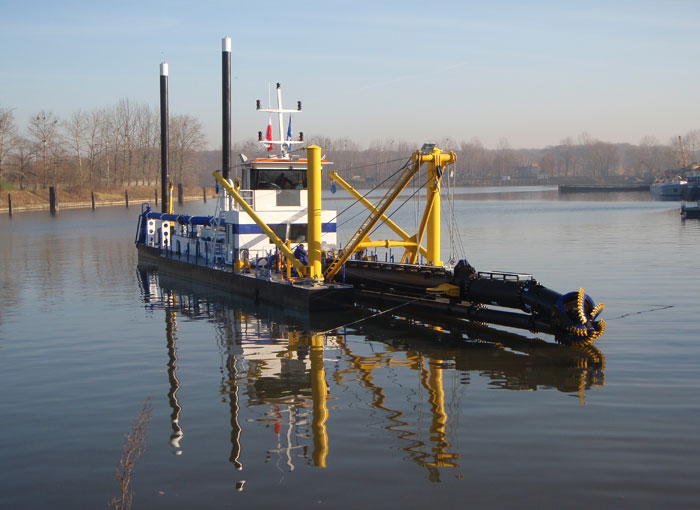 THE DAMEN APPROACH TO DREDGING EQUIPMENT

Damen Dredging Equipment oǪers an extensive standard range of effiaent and robustly constructed cutter suction dredgers. The dismountable dredgers offer a high productivity combined with a reliable operation.The dredgers can be customized effortlessly due to the large number of available options.
The non-self propelled dredgers consist of an ergonomically designed operating cabin, a main pontoon housing the diesel engine and tHe dredge pump, plus side pontoons, the cutter ladder and the spud poles. The pontoons are fitted out with a simple yet Heavy duty coupling system enabling rapid and straightforward dismantling and reassembly on land and afloat. All elements ofthe cutter suction dredger can be transported by road, rail or sea.

The spacious operating cabin has dark tinted windows all around providing excellent view on essential deck equipment. The well insulated cabin is mounted on shock absorbers forimproved comfort and low noiselevels. THe ergonomic design shows in the two separate control panels between which the dredge masters chair is located. The dredger is designed for one-man operation.

The cutter suction dredgers are well powered by modern computer-controlled Caterpillar diesel
engines with low fuel consumption and low emissions, e n a bling all functions to operate simultaneously. The engines are connected to a closed fresh water cooling system with box
coolers.

The Damen standard range consist of five types of dredgers. The standard design has resulted in a short the delivery time and competitive pricing.
All cutter suction dredgers are completely assembled and fully tested at the yard before delivery, and they thus are immediately ready for operation on arrival at site.

Parameter/Model
CSD250
CSD350
CSD450
CSD500
CSD650
Dredging Performance
 
 
 
 
 
Min/Max Dredging Depth
1-6m
1 -9m
1.5 -12m
2.5-14m
3-18m
The biggest dredging ability
1000 m3/hr
2000 m3/hr
3000 m3/hr
4000m3/hr
7000m3/hr
Dredging Pump Type
BP2320
BP3530
BP45-1100
BP5045
BP6560MD
Cutting Power
40KW
55 KW
110kw
180kw
600kw
Cutting Speed
250mm
350mm
450mm
550/500mm
650mm
Engine Device
 
Total Power
254 kw
447kw
938kw
1293kw
2972kw
Power Device
24 volt
24volt
24volt
24volt
24volt
Important Size
 
Ladder Length
19.00m
26.00mm
33.15mm
38.50m
60.00mm
Raft Bridge Overall Length
11.5m
16.5m
22.5m
25.5m
49.3m
Depth
1.50m
1.50m
1.80m
2.00m
2.5m
Overall Weight
30tons
55tons
115tons
140tons
495tons
Fuel Capacity
2×3m3
2×4.2m3
2×9.4m3
2×11m3
4×17m3